About
Steelbiz PTY LTD was founded in 2019 as a fabrication, projects and on-site industrial maintenance company.
Located in Port Kembla 57 Military Road it has easy and convenient access to major road links and close to heavy industries of the Illawarra and Port services.
Our aim is to be a leading service provider and committed to providing quality work with a professional attitude.
Employing personnel that have experience in delivering service on time and committed to safety. Our goal is to provide all employees with a safe work environment using our quality safety management system. No worker will be placed into any position that may put him or her at risk. Our safety measures are by developing risk assessments of the workplace to ensure all reasonable measures are put in place to prevent injuries. Our on-site employees and subcontractors will be involved in pre-start toolbox meetings, be involved in Safe Work Method Statements, safe systems of work. Having a full-time HSE officer appointed their involvement will ensure safety is put at the front line of our business.
Directors, managers and staff who have vast experience in the Heavy Industrial field and being involved in the development of safety and quality systems from several years we believe Steelbiz will be a successful business employing local tradespeople with skills that can provide quality.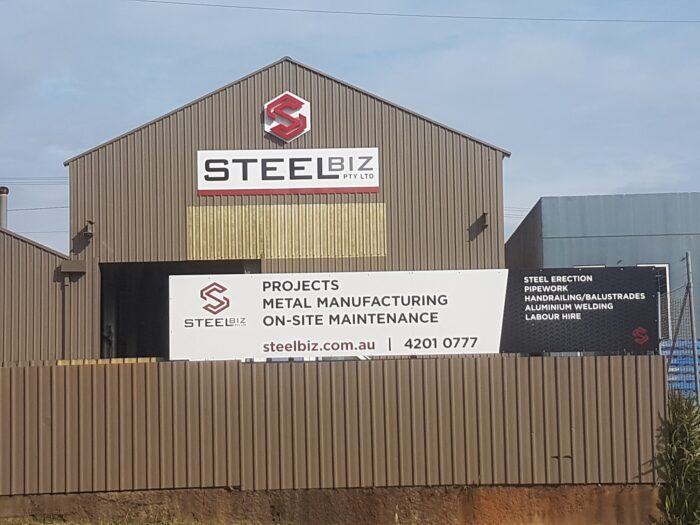 Products And Services
STEEL FABRICATION & METALWORKING SERVICES
Committed to quality, we deliver a leading range of steel fabrication and metalworking services. Our experienced team is equipped with the specialist knowledge they need to provide the highest industry standard of workmanship in a safe, professional, and friendly environment.
Your satisfaction is our number one priority — we want to help you achieve your vision and your goals. All services can be tailored to meet your personal needs and limitations. To us, an obstacle is an opportunity to innovate, and as natural-born problem-solvers, we love a good challenge.
We offer a comprehensive range of fabrication services, including structural steel, stainless steel, aluminium, and other metals.
Find out more about our services in the list below or contact our team today to discuss the specifics of your upcoming project.
A LIST OF JUST SOME OF OUR SERVICES
Projects
Project management
On-site maintenance and repairs, down days, shutdowns
Labour hire
Boilermakers
Fencing & gates
Aluminium fabrication for fencing & louvres.
Metal bending & Folding
Pipe fabrication including hydraulic, pressure & high-pressure pipework.
Welding of Mig, Stick & Tig
Onsite installation
Structural metalwork
Heavy Structural Steel Fabrication
Residential, Commercial & Industrial
CAD drawings
Mobile/On-site welding
Available 24/7 for emergency callouts.
Workshop Fabrication:
Heavy industry zoning
Structural steel, Aluminium, Stainless steel
Pipework, pressure welding
Handrails, Balustrades
Aluminium welding
Workshop Overhead crane 5T capacity.